It was a beautiful sunny day at the University of Essex as everyone gathered for the 2018 Graduation Day. The day was filled with laughter and celebration as 125 of our online students made the trip over to collect their hard-earned certificates and celebrate with their friends and families.
It was a busy day for our students as they arrived early on Thursday morning at the Colchester Campus to collect tickets and robes, purchase souvenirs, chat with fellow students, many of whom they had been talking to throughout the course and now had finally got the chance to meet face to face.
Celebration area outside the Ivor Crewe Lecture Hall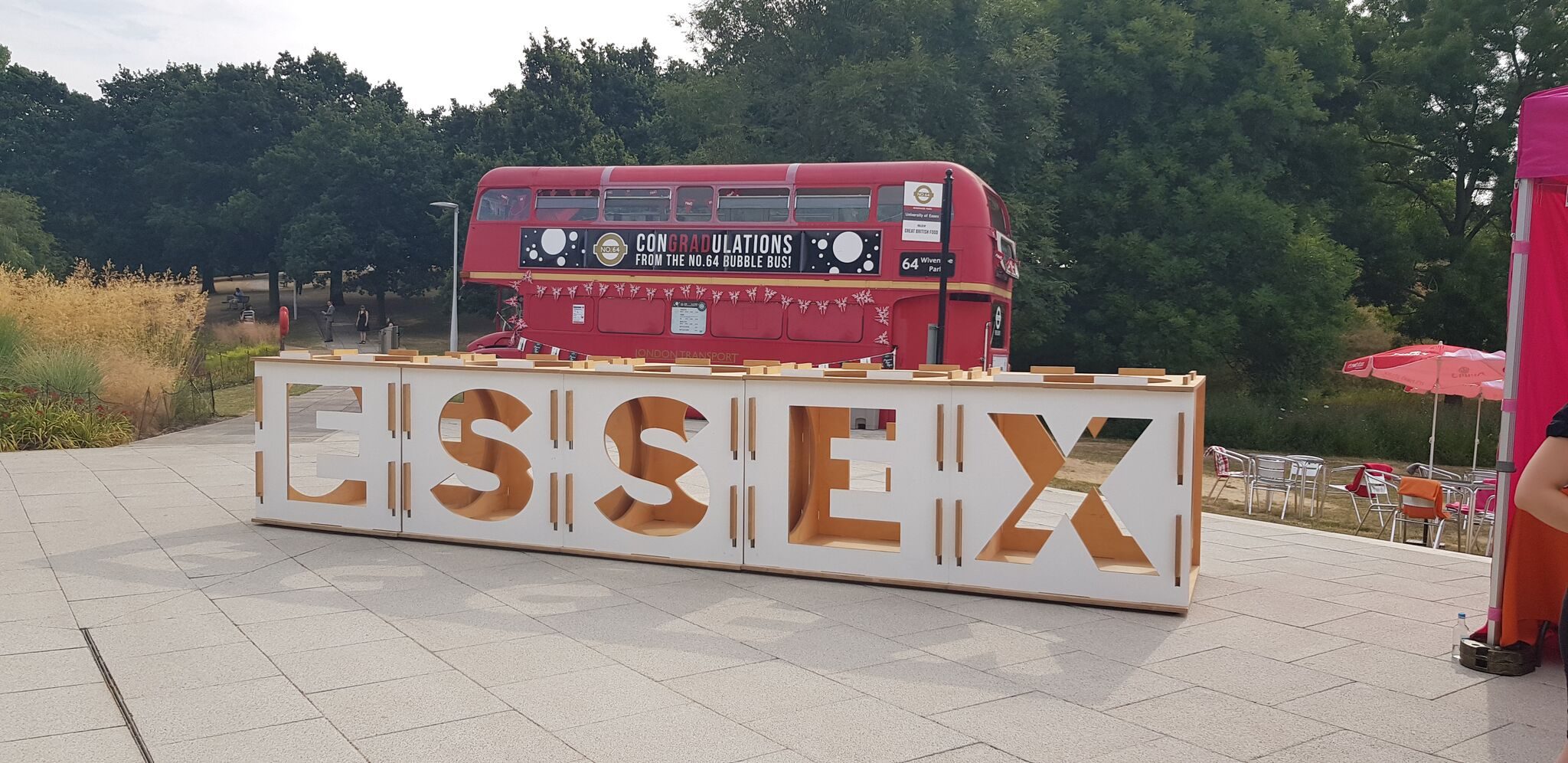 The ceremony started at 10 a.m. sharp in the 1,000-seat Ivor Crewe Lecture Hall and was presided over by Judith Judd who is a patron of the Education Media Centre and former editor of the Times Educational Supplement.
The recipient of the Honorary Doctorate for our ceremony was Rena Dourou – an Essex graduate who was elected as an MP in Greece in 2012, representing the radical left-wing political party Syriza, and was later elected to the Athens prefecture, representing four million people. Until 2015, she was the only member of Syriza to hold high office. In the international media she is often portrayed as a politician with a talent for talking to the people and succeeding in a typically male-dominated arena.
On the way to the reception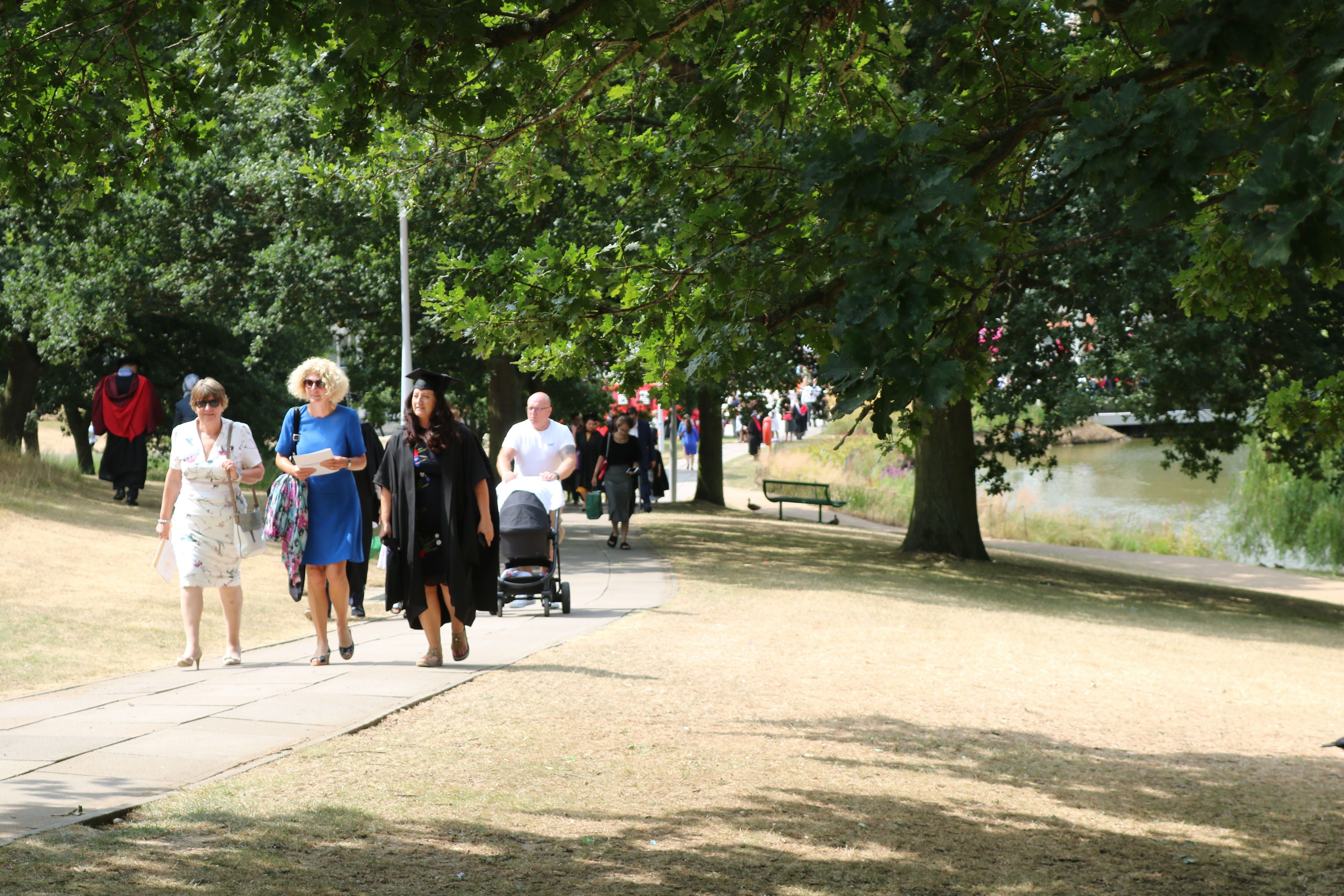 Then it was finally time for our students to make their way across the long stage, shake hands with Judith Judd and officially graduate surrounded by applause. Following the ceremony our graduates then left the Lecture Hall in a sea of excited faces as they walked across the bridge and gathered outside to find their family, take pictures and excitedly make their way to our marquee to get the celebrations started!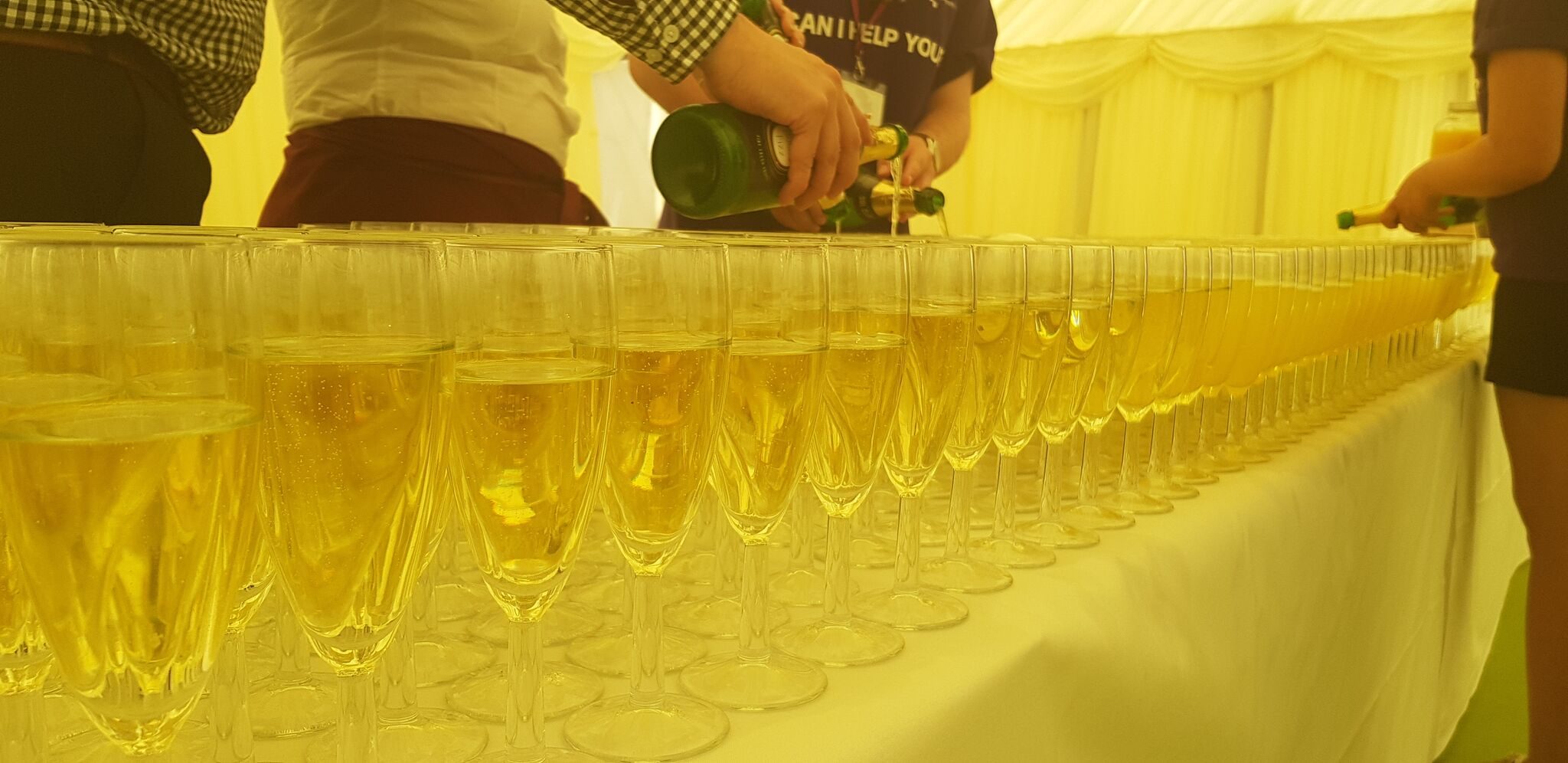 At the marquee, a champagne reception was waiting for them with bubbly and nibbles. It was here that our graduates got to meet and thank their Student Support Advisers who many told me were the reason they kept studying. They also had the chance to mingle with other students from across the globe and get their official photos taken. The reception was officially opened by Academic Director for University of Essex Online, David Dixon who started our annual prize-giving ceremony, with prizes awarded to the top students in each subject.
Award winners
We'd like to congratulate all of our extremely hard-working prize-winners again:
The Kaplan Open Learning Top Undergraduate Criminology Graduate 2018 – Jamie Leigh Heslop – BA (Hons) Criminology and Criminal Justice
The Kaplan Open Learning Top Postgraduate Business Graduate 2018 – Kelly Bruce Dueck – MBA
The Kaplan Open Learning Top Postgraduate Health Graduate 2018 – Chiamaka Adline Igbokwe – MSc Infection Control
Here are the interviews with our award winners:
And finally, we presented our extremely prestigious award, the Alan Jenkins Memorial Award, to the graduate with the most inspirational study journey. This was presented by Alan's widow Clare to our graduate Muna Yousif who the judging panel acknowledged that not only had she studied through difficult home circumstances and taken on the challenge of studying a postgraduate course in a second language, but also that Muna was focused on putting what she's learnt from the course back into practice, by providing hospital patients with a basic human need – sanitization.
Unfortunately, Muna was not able to attend the award ceremony but she did send us this video from Sudan:
Finishing with a hat toss
Graduation day was then brought to a close with a beautiful group photo outside where the sun was shining down. To finish off in style the graduates were then invited to take part in the annual 'hat toss' which is a special moment for any graduate that will live on in their memories for years to come.
From everyone at University of Essex Online, we'd like to wish our graduates all the best for the future. We're very proud of you!
There's more…
We'll be publishing videos of the day, interviews with our prize-winners and much more soon, so follow us on Facebook, Twitter or LinkedIn to find out more. We'll also be posting our official photographs on our Facebook page as soon as possible.