Higher education qualifications explained
There's a lot to think about when you decide to enter (or re-enter) higher education. And when you encounter words like "levels, "diplomas" and "certifications" it can sometimes feel like you also have to learn to speak another language! We understand that the terminology of the UK education system can be extremely confusing, especially if you've been out of the classroom for a few years or you grew up with a different system, so here's our handy guide to higher education qualifications…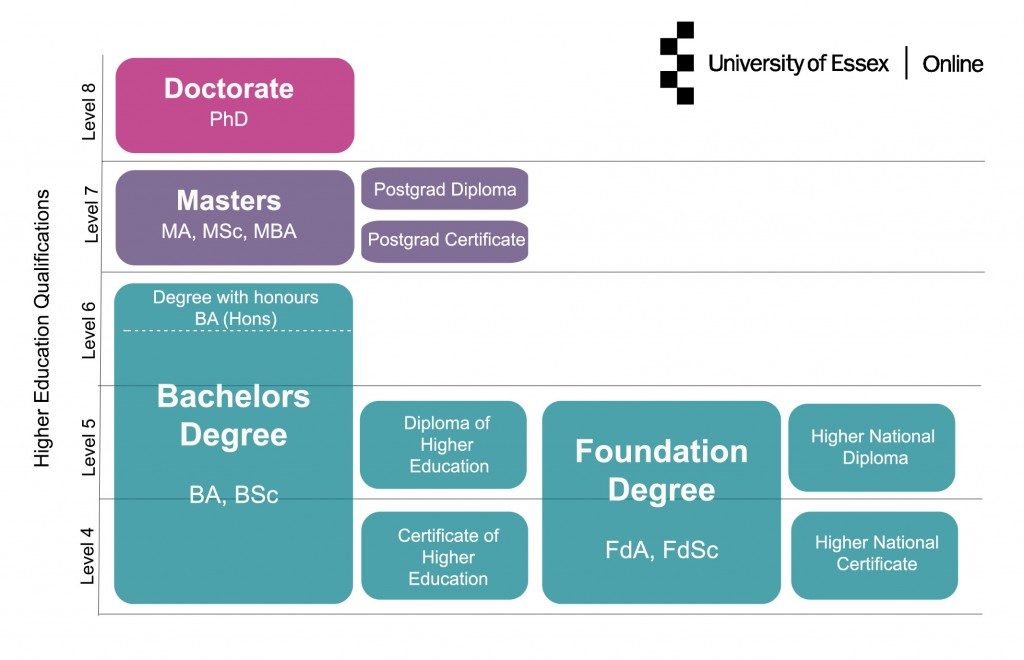 Undergraduate qualifications
Undergraduate qualifications are the next step up from A-levels and are delivered by higher education institutions, such as a university. Entry requirements vary depending on the type of qualification and the institution you choose to study with. The most common undergraduate qualifications are:
Higher National Certificate and Diploma (HNC/HND)
HNCs and HNDs are work-related courses provided by higher and further education colleges in the UK. They focus on 'learning by doing' and are designed to give you specific work skills. A full-time HNC takes one year to complete. An HND is the next level up and takes two years to complete full-time or three to four years part-time. Generally, an HND is equivalent to the second year of university and it is often used as a stepping-stone to a full degree.
Certificate Continuing Education (CertCE)
A Certificate of Continuing Education is equal to the first 60 credits of an undergraduate degree (which is 180 credits in total). Here at University of Essex Online we recommend this course to students who have been out of education for a long time, or may not have documentation of their previous qualifications. A CertCE takes on average eight months to one year to complete and is a great 'taster' of higher education, while also being a recognised qualification. Students completing a CertCE can also use these 60 credits towards a full undergraduate degree if they choose.
Certificate and Diploma of Higher Education (CertHE/DipHE)
These qualifications are levels within a degree course. A CertHE is equal to one year of full-time study and a DipHE is equal to two years. These are often awarded if you leave a degree course early but both can be taken as standalone qualifications. You may want to choose a Certificate or Diploma if you don't feel you could commit to a full degree. Although these qualifications are shorter than a degree, the teaching is at the same level.
Foundation Degree (FdA)
Foundation degrees have largely replaced HNDs to become the vocational alternative to a traditional degree. They are designed to combine practical work-based learning with academic study and aim to train you for a specific job. The qualification is often favoured by students who want to work and study at the same time. Once you have completed your Foundation degree you can go straight into work or you can 'top-up' your studies to achieve a full degree.
Top-up Degree
Top-up degrees are designed for students who have successfully completed a Foundation degree or HND or a DipHE. A top-up course, or progression route, allows you to enter the final year of university study so you can upgrade your qualification to a full degree. This typically takes one year of further study, full-time.
Bachelors Degree
A Bachelors degree can also be known as an undergraduate, first or honours degree. This is the most common form of higher education and it is the 'traditional' qualification for students to take after A-levels. You can study a Bachelors degree in almost any subject and there are thousands of different courses available. It typically takes three years full-time or four years part-time to complete but can take longer if the course includes a work placement or a year abroad.
'Bachelors degree' is the broad term given to a full undergraduate degree but there are different designations depending on your subject. The most common titles are 'Bachelor of Arts (BA)' and 'Bachelor of Science (BSc)' and the BA/BSc prefix will be used at the beginning of your degree title.
A Bachelors qualification is designed to give you a thorough understanding of a subject. The format of the degree will vary depending on which institution you choose so look carefully at the degree content and structure.
Postgraduate qualifications
Postgraduate qualifications are typically studied after a Bachelors degree. If you wish to further your studies beyond an undergraduate degree the options are:
Postgraduate Certificate and Diploma (PGCert/PGDip)
PGCert and PGDip are levels within a Masters degree, which can be studied as standalone qualifications. These can be useful if you want to test a subject, don't want to commit to a full degree or have a specific interest in a small number of modules. They are also proportionally cheaper than a full Masters degree.
Masters (MA, MSc, MBA)
Following a Bachelors degree it is common for students to continue their studies with a Masters degree. Masters degrees are the most popular form of postgraduate study and you will be expected to undertake more research and independent learning at this level. Masters courses are split into two categories: 'taught' and 'research' degrees.
Taught Masters
Most Master degrees fall into this category. They are called 'taught' courses because they follow a similar structure to an undergraduate degree, where you are taught modules in scheduled lessons. The most common titles are Masters of Arts (MA) and Master of Science (MSc). You can choose to study within the same subject area as your undergraduate degree, to specialise your knowledge, or there are a number of conversion courses which will allow you to study a completely new subject. A taught-Masters typically takes one year full-time and two years part-time to complete.
Research Masters
As the name suggests, these degrees involve learning through research. Master of Research (MRes) and Master of Philosophy (MPhil) are research-based courses where you'll focus on a particular topic and produce a piece of original research. Research degrees are popular with students who wish to pursue careers in academia or research.
Doctorate (PhD)
A Doctorate is the highest level of academic degree. Students work independently to produce a substantial piece of original research (this can take years to complete). The qualification is highly regarded and those successfully completing a Doctorate are entitled to call themselves 'Dr'.
Want to start your own education journey? Download our prospectus today.