Interview with our Head of Criminology, Dr Michael Lewis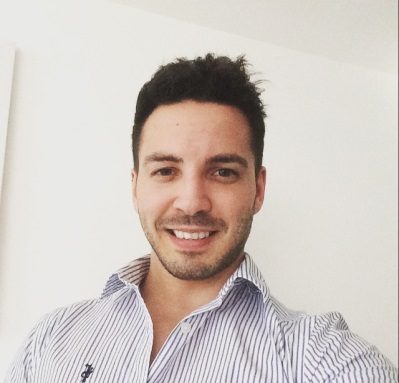 This week, we're interviewing our Head of Criminology, Dr Michael Lewis. Michael completed his PhD in Forensic Psychology at the University of Central Lancashire. During this time he worked as an Associate Lecturer teaching on the undergraduate Psychology programme. He was later employed by the University of Leicester to lecture on their MSc in Forensic Psychology. Michael has also worked in secure psychiatric settings, conducting psychological assessments and therapeutic interventions with offenders with complex forensic backgrounds.
As an active researcher in the discipline of Forensic Psychology, Michael is the lead author on the Psychopathic Processing and Personality Assessment (PAPA; Lewis, Ireland & Abbott, 2014). He continues to publish papers on clinical psychopathy, specifically investigating implicit processing in offenders with this disorder.
Michael is a reviewer for the Journal of Criminal Psychology, Journal of Forensic Psychiatry and Psychology, and Hogrefe Publishing. He is a Chartered Psychologist with the British Psychological Society and soon to be a Fellow of the Higher Education Academy. Michael has recently been appointed External Examiner for the MSc Forensic Psychology course at Manchester Metropolitan University and BSc (Hons) Criminal Psychology programme at the University of Derby.
1. What is criminology?
Criminology is a social science that focuses on the study of crime. It is a discipline that infers its knowledge from a variety of different subjects; therefore, students studying a criminology degree can expect to encounter psychology, sociology, law, politics and many other subjects. Criminology has many different facets and within the Criminology department here at University of Essex Online we try to teach students as many of these as possible.
2. Do TV shows like CSI, Criminal Minds and Luther show what it's really like to practice criminology?
Criminology is such a large subject that it's probably impossible to show it all on TV. Programmes such as Criminal Minds do show a very small part of it, but from my experience they tend to glamorise the discipline. The roles portrayed typically within many American crime dramas are only applicable to criminology practitioners in America. And here in the UK, jobs like 'criminal profilers' are not really an accurate representation. Criminology professionals in the UK do work within many interesting areas of our police forces and security services, but their roles tend to be analytical and research-based.
3. What first attracted you to criminology?
I am fascinated by the psychology of criminal behaviour and wished to develop a greater understanding of this. Criminology is such a diverse subject that has an ever-increasing relevance in modern society.
4. What makes the University of Essex Online's undergraduate and postgraduate criminology courses so good?
The online nature of the course allows for a flexible approach to studying Criminology. This enables students to continue with their commitments whilst developing a holistic understanding of Criminology delivered by experts in the field. The Criminology programme, regardless of level, promotes critical reflective thinking among students as well as fostering skills in debate, independent thought and analytical skills. Such skills will develop a solid foundation for a career in the Criminal Justice sector.
5. Can you tell us about some of the modules students will study on both courses?
On the undergraduate programme, the modules taught on our programme cover a broad range of criminology topics focusing on a variety of crime types. A few of our most-popular modules are: Introduction to Offender Profiling, Criminal Investigation, Victimology, Cyber Crime and Forensic & Criminal Psychology. In each of our modules, students study the most pertinent topics selected by academic and professional experts. For example, our Forensic & Criminal Psychology module has been developed in partnership with a Consultant Forensic Psychologist who has many years of experience working with mentally disordered offenders.
6. How are the courses tailored to online learning?
Students study short 9-week modules, which are perfect for online students. Studying modules 9 weeks at a time allows our students to plan breaks and maintain a healthy study/life balance.
7. Do students need any practical experience before joining either course?
This is not a requirement of the course; however, practical experience will allow students to apply their knowledge to the real-world and may prove beneficial in some instances. Nevertheless, the content of the Criminology programme assumes no prior knowledge or experience of the subject and students without experience should not be deterred from studying this fascinating and evolving area of Social Science.
8. What can graduates do with an undergraduate or postgraduate degree in criminology?
Criminology graduates are not limited to any one professional field; the possibilities for criminology graduates really are endless. Of course, many graduates go on to work in some form of the criminal justice system, but you aren't limited to this line of work at all. Jobs within the criminal justice system are extremely varied, from working with offenders to supporting the police force. The police in the UK have over 207,000 employees in roles from intelligence analysts to administrative staff, so there really are many opportunities to use your degree.
9. What transferable skills can they expect to gain?
Criminology is a social science and with any social science degree graduates will gain a number of transferable skills including interpretation and organisation skills, the ability to work independently, initiative, presentation skills and evidence of dedication.
10. What advice would you give people thinking about starting criminology?
My advice would be to ask yourself two questions: Do I want to study towards a degree? And am I interested in crime? If the answer is yes to both of these questions, my advice would be to start enquiring today! Criminology is a subject with many opportunities and a fascinating syllabus.