Interview with our Head of Health, Meigan Oxley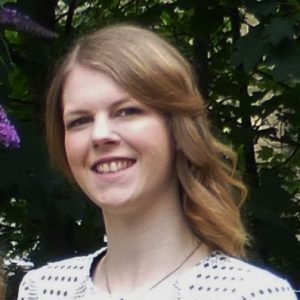 This week we're interviewing our Head of Health, Meigan Oxley. Meigan joined the University of Essex Online team in June 2017 to lead the MSc Infection Control and Master of Public Health programmes.
Meigan graduated with a BSc Hons in Biology from the University of Nottingham in 2014, and then went on to complete a Masters of Public Health at the University of Sheffield in 2015.
Meigan previously worked at the Terrence Higgins Trust as a Health Promotion Specialist, leading on the local development of outreach services with hard to reach populations. She also has experience within the Charity and Public Sector, including experience working with the Data Services for Commissioners Team at NHS England.
1. How would you define public health?
For me public health is the wider approach to health, which integrates a multifaceted approach within and between communities. It places the onus of health not only with medical professionals but with the wider community and individuals at a grassroots level. Public health is the "bigger picture" and really focuses on the prevention and improvement of health at a population level.
2. How would you define infection control?
Infection control is a function of public health but is also a discipline in its own right and could similarly be considered the science and art of preventing and controlling the burden of disease from communicable diseases. When many people think of infectious diseases they think of outbreaks and "killer viruses" which gather a lot of attention in the news for a short time then disappear, appearing like short-term attacks. The reality is that infectious diseases are ever-present and are a daily threat to health for huge proportions of the world's population.
3. What first attracted you to health?
I have always had a keen interest in health and particularly the improvement of health at a community level. During my undergraduate degree in Biology I became particularly fascinated by parasitic infections. Their use of human behaviour to maximise their lifecycles and spread of infection particularly interested me. At this point I had my initial introduction to public health and the opportunity to really understand the impact simple initiatives can have on community health. Since then health has been a particular focus in my career and the impact health programmes can have continues to engage and attract me to a health-focused career.
4. What makes the University of Essex Online's Infection Control and Public Health courses so good?
The University of Essex Online programmes are an excellent way to explore both Infection Control and Public Health topics as we have a number of highly qualified and experienced tutors leading each module. Unlike a campus based programme, students are supported by the same tutor throughout the module, offering consistent support and a personal approach to academic support. Campus-based programmes, especially at postgraduate level, will often draft in a variety of visiting tutors or lecturers from around the department to cover specific topics. Our tutors are responsible for the entire module from start to finish, so they understand the journey through the module and how the materials are relevant to each piece of assessment.
In addition, the modules are logically structured, with each week representing one unit and each unit containing specific reading and activities to complete. The assessment is spread over four assignments, evenly spaced, meaning that you will be able to approach it in manageable chunks rather in one large summary at the very end of the module.
Finally, the online environment is an excellent way to support networking and peer learning. Our students attend from all over the world with a huge amount of collective experience, knowledge and perspectives. As both Public Health and Infection Control are global concerns, students can learn from their peers' experiences of working across health issues.
5. Can you tell us about some of the modules students will study?
There is a mixture of content-specific modules across Infection Control and Public Health, but one of the ways in which students can benefit from peer learning and networking is through the shared modules which run in both programmes. These common modules offer materials that are essential to both infection control practitioners and the public health workforce. Common modules include Research Methods, Health Promotion and Advanced Practice in Healthcare. The Advanced Practice in Healthcare is a particularly interesting module, which focuses on developing students' leadership and management skills, exploring the science behind coaching, team leading and pragmatic work-based research methods and decision making.
There will also be the opportunity for students to critically appraise their own skills and create a personal development plan, meaning that what is learned will be truly personalised and practical.
6. How are the courses tailored to online learning?
As with all University of Essex Online courses, the health programmes are optimised for online learning. All activities can be completed at times to suit the students, which help those with busy schedules or those in different time zones to the UK. All of the materials we provide are online, including text books, and students are provided with a free copy of the core text for each module. This is a digital eBook, which students can refer to throughout their course and keep within their online account forever.
Our programmes are not simply classroom courses which have been posted online, all of the materials are created especially for the online learning environment and are all reviewed before every intake to ensure that the content is current.
7. Do students need any practical experience before joining the courses?
Practical experience will always help students. Knowing how people engage in health-seeking activities, respond to conditions and having a good grasp of what it is like to work in health settings will help students to contextualise the theory and perspectives of health explored in the course. As mentioned above, your peers will also be interested to hear your thoughts and perspectives on working in health from your area of interest/specialist skills. For example, we have, in the past, had students from a dental background who were able to share the unique challenges of infection control and health promotion within dental health.
Your experience may also offer different cultural, social and economic perspectives not experienced by other students in similar roles or environments.
8. What can graduates do with a Master of Public Health or an MSc Infection Control?
Graduates in Public Health may continue in their current field but with a new appreciation of the social factors that cause disease and the methods to monitor, prevent and promote health within their specialist field. Graduates may also progress into management positions within their current field.
Alternatively, graduates may use the Master of Public Health qualification as a launch pad for a new career in the widening public health workforce. Possible roles include health improvement/promotion specialist, health information specialist, academic posts, research officer, health project manager, health communications specialists and public health officer, to name a few examples.
Students on the MSc Infection Control programme are often already working within, and committed to, a career in infection control. The MSc Infection Control is often a route to advancing knowledge and skills in infection control for students who have not previously studied infectious disease at an undergraduate or pre-registration level. Infection control practitioners often come from nursing backgrounds and so have an advanced understanding of the infectious disease threats at a practical level, but may lack knowledge of microbiology at both a theoretical and applied level.
In addition to developing a career as an infection control practitioner, those with an MSc in Infection Control may also wish to explore academia, teaching research and health promotion activities with the aim of reducing the burden of infectious disease at a national and international level.
9. What transferable skills can students expect to gain?
Students can expect to develop their skills in academic/report writing, communication, discussing/ debating, critical appraisal, synthesis of complex information, researching information, data collection, analysis, project management including planning, independent working and time management. All of these skills are transferable to other domains, particularly within health settings but are also relevant to a wide range of alternative career destinations.
10. What advice would you give people thinking about starting a Master of Public Health or an MSc Infection Control?
When choosing to undertake a Master's programme it is important to ensure that you are really interested in the course that you choose. It is vital to research the different courses that are on offer. It is worth focusing on the way that the modules are delivered and assessed, as this will help you to make a decision based on your learning style and time commitments.
I would emphasise that the pre-conception may be that studying for a degree online is the easy option, whereas in reality, studying online requires a much higher degree of self-determination, commitment, organisation and motivation. Essentially, you will be in the driving seat as an active participant in your education, rather than as a passive recipient, as may be the case in traditional campus-based programmes, where your attendance at lectures is a large part of the programme.
Once you are studying, I would also suggest that you consider where you intend to be in 5 years or even 10 years' time and focus your studies on topics or subjects that will help you to develop the skills necessary to get there.
Inspired to study public health or infection control?