Welcome to our new home on the internet! As you can see, the address is the same but we've had the decorators in to completely revamp the look and feel.
Please come in, take a look around, and get to know our new site a little better.
Bolder and better
The University of Essex are committed to being "freer, more daring, more experimental". That's why our redesigned site is dominated by block colours, lively images and bold fonts. We want our prospective students to get an idea of the type of institution we are, right from their first visit to our website.
Easy to navigate
Our new menu answers the big questions we get asked on a regular basis – what courses do you offer? How much does it cost? What is it like to study online? And if you can't find the answer to your question there, our search button appears on every webpage. Find a course or search our entire site – the choice is yours.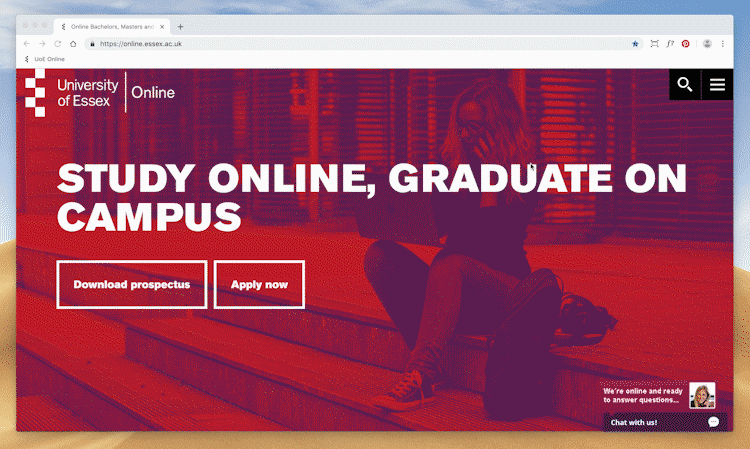 Packed full of info
We now have more information about our courses available than ever before, meaning you can get a detailed insight into what studying with us is like. It's now also much easier to look at both our undergraduate and postgraduate courses in a specific subject, to help you determine which level is right for you to start at.
Meet our students
Testimonials are now a focus for our website, and you can find a broad range of both video and written testimonials on our We are Essex Online page. (Want to submit one of your own? You can get in touch on out new Contact Us page).
Keeping the essentials
All the important stuff is still very easy to find. You can download a prospectus here, try a taster course here, apply for a course here and log into our learning platform here.
So feel free to explore the new site, and let us know what you think of it!