April Fools' Day is celebrated on the 1 April annually – and on this day it's customary to play practical jokes on each other. The origins of April Fools' Day is believed to date back to 1582, but its true origins remain unknown.  
In modern times, many have had fun with this tradition, including some of the world's most well-known brands. If executed well, April Fools' Day campaigns can help to generate a buzz on social media; however, it can be risky if the jokes backfire!  
Let's look at some of the most popular brands who've played a prank on us over the years…  
Google
The world's leading search engine has tricked us several times. In 2018, Google invited its audiences to try and find Waldo (known as Wally in the UK) on Google Maps. The game took players through different series of locations, leading them to ask the famous question… where's Waldo?
Google upped its game for Aprils Fools' Day 2019, by introducing a new feature on Android smartphones called Screen Cleaner. The feature allegedly used a "haptic micromovement generator" to clean physical dirt and stains on your phone, which would then vibrate, creating a non-stick shield "with a fresh pineapple scent".
Miz Mooz
Designed in New York, handcrafted in Europe… this shoe brand got the internet talking about their Selfie Shoe. On April Fools' Day 2015, Miz Mooz announced a hands-free selfie solution that didn't even require a selfie stick.
The shoes claimed to have a square toe box, perfectly made for placing a smartphone into and you could click the shutter with your toe. You might have risked pulling a few muscles but anything for a good selfie, right?
Ola
On April Fools' Day 2021, the CEO of Ola – an Indian taxi firm – announced that they would be launching the Ola Airpro: an electric, driverless car… that could also fly. The brand was very dedicated to their prank and even created a branded website, product video and t-shirts.
LEGO
Stepping on a LEGO has to be one of the most painful things. Luckily (or at least while we all believed it), on 1 April 2021 LEGO teased a product which some may wish wasn't part of an April Fools' campaign.
The SmartBricks claimed to sense when a person approached and automatically moved out of the walker's path. This might've been one of the meanest pranks that any brand has ever pulled.
Duolingo
In 2021, the language learning platform took an interesting approach by "introducing toilet paper that teaches you phrases from new languages. No ads. No interruptions".
The Duolingo Roll claimed to turn any bathroom into a classroom and promised a unique learning experience. This prank was so sleek, you might've believed that it was real!
Volkswagen
April Fools' pranks aren't all that fun when they damage a brand. Volkswagen took a risk in 2021 by disregarding their emissions scandal and claiming they would be changing their name in the US to Voltswagen, to emphasise their commitment to electric vehicles.
The company even went to the extent of issuing a detailed press release with a new logo. They received mixed responses from their consumers; while some were happy with the name change, others were upset by the confusion. The brand then had to put the brakes on their prank.
H&M
On 1 April 2016, a website appeared on the internet which displayed the founder and CEO of Facebook, Mark Zuckerberg. The site showcased a new and limited capsule collection that featured a set of seven basic grey T-shirts and a pair of basic jeans (inspired by Zuckerberg's daily attire) with the slogan "one less thing to think about in the morning". This collaboration was part of an April Fools' Day prank and H&M even featured a picture of him modelling the clothes, which added to the H&M basics collection.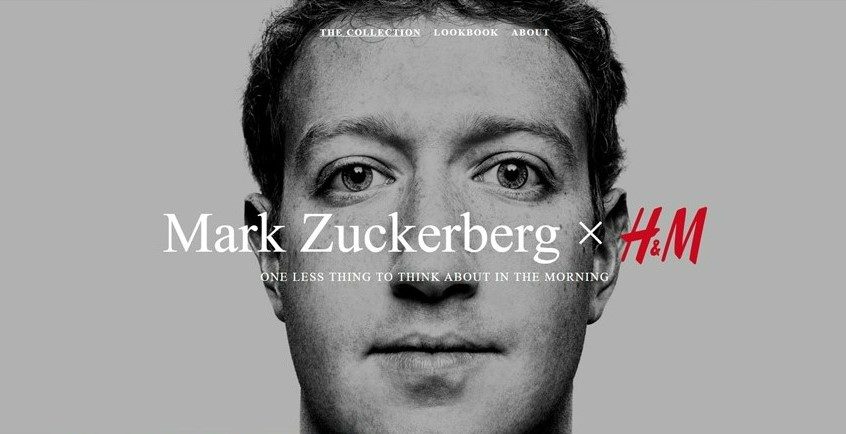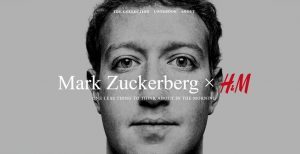 Source: www.markforhm.com/
Want to learn about digital marketing campaigns? Study one of our postgraduate global digital marketing courses. Download a prospectus now to find out more!