Starting a new course is exciting. It can also feel a little nerve wracking, particularly if it's your first time in higher education, or if you haven't studied for a while.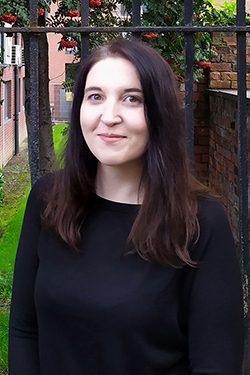 Our Student Adviser Katy has put together a guide for anyone who has been offered a place on a course with us, to help you prepare for the journey ahead.
Get accepted on a course
Once you have received the news you will be joining us at University of Essex Online, and as your start date approaches, you will hear from your new Student Support team. First, we will send you an email to introduce ourselves and let you know what is coming up next. Then you will receive a welcome call, where we can have a quick chat, and discuss any questions you might have.
We will guide you through the first steps of your course, making sure that you are confident and ready to start, and that you don't miss out on any important information.
You will hear from us a lot during the first weeks of the course: to make sure you have everything you need and to support you through your first assessment. We will also be available to support and guide you throughout your whole course, with any non-academic enquiries. No matter how big or small, we are your first point of contact for any questions via email, phone or LiveChat.
Your first module
If you are an undergraduate student, the first week of your course will be a Welcome Week. This is an opportunity for our students to explore the learning platform, where you will access your modules and engage with the community of students on your course. Importantly, Welcome Week will give you a chance to get used to online learning and give some insight into the kind of activities you can expect throughout your course.
If you are a postgraduate student, you will complete a two-week Induction module where you will have the opportunity to learn how to navigate the learning platform and become familiar with the available resources. During this module, you may participate in several activities which will help you prepare for future modules on your course.
Learn to use the learning platform
The virtual learning environment (VLE) is where you will complete your course, including accessing module resources and submitting assignments. To help you familiarise yourself with it, we hold a Welcome Session. This is a live session, hosted by the Student Support team. Here we talk you through how to navigate your way around the platform. There is also a Q&A session at the end, so don't worry if you miss something or have questions at this initial stage. You can also watch a recording of the session afterwards if you want to review any details.
Meet your classmates
The Welcome Session is a great opportunity for you to 'meet' your future classmates by introducing yourself in the chatbox. As we have students from over 150 countries, we understand that some of you may not be able to attend. Here at University of Essex Online, we try to be as flexible as we can, so there are plenty of other opportunities to introduce yourself to your classmates and begin building your online learning community. We also have Department Forums where we encourage you to post and get to know your fellow classmates!
Your first assignment
Depending on your course, your first assignment will be an Academic Readiness Assessment or Induction Assignment. This piece of work is very important, as it allows students to gain perspective on the expectations we set throughout the course. You will need to pass this assessment before you can progress on to the rest of the course.
Don't worry if you are unsure of anything, or have questions about the assessment, as there is lots of support available, from your Student Support team, the Study Skills team and your module tutor.
If, unfortunately, you do not pass this introductory activity, please try not to worry! Your tutor will provide some feedback on what you have done well, and what areas may need improvement. This allows you to take their advice on board and arrange, with your Admissions Adviser, to return to the course at a time more suitable for you.
During the first 21 days of your course, you can receive a full refund if you find the course is not for you. You can discuss this with your Admissions Adviser, who will guide you through withdrawing from the programme.
Pass the assignment!
The Student Support team will let you know if you have passed your first assignment. Firstly, we will email you with the good news, and provide further details of your first credit-bearing module. We may then get in touch by phone for a congratulatory call and to see if you have any further questions at this stage. You are also always welcome to get in touch with the Student Support team at any point with questions or queries.
We are available throughout all these steps should you require any assistance. Our contact details are available on the learning platform, and we are always happy to hear from you.
If you have yet to submit your application for one of our courses, just head over to our online application form to get started. Good luck!