Today we are excited to announce the launch of the first UoEO taster course! We've taken a lecture from one of our postgraduate business modules and are making it available to you completely free of charge.
If you've been thinking about starting one of our courses but would like to know if the format of teaching works for you, this is a great way to get an insight into what being a University of Essex Online student is really like.
Don't worry – it's not dry discourse or choppy video. We do lectures a bit different at UoEO…
Introduction to Operations Management
Our first taster course is on "Introduction to Operations Management", which is the first lecturecast in our Sustainable Operations module. It covers concepts such as the Triple Bottom Line and the role of the Operations Manager, and will take under an hour to work through.
This section sets you up for later lecturecasts including operations strategy, demand and capacity management, and lean thinking. As the first module in the sequence, it introduces a lot of new concepts that will be expanded on later in the course, but there are still clear learning outcomes from this short section.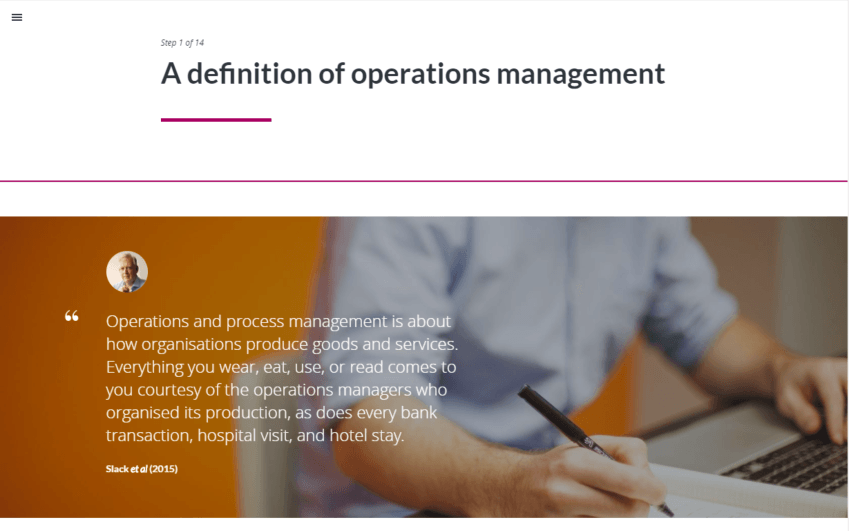 The taster is ideal for anyone considering studying any of our postgraduate business courses, including our Master of Business Management and our MBA.
What is a lecturecast?
Well, it's not a live video of someone talking at you, or a recorded audio or video track that you need to sit through for an hour. We know one of the biggest perks of online learning is the flexibility, so having course content that you can dip in and out of is key to supporting your learning experience.
It's also not just a wall of text – we don't know anyone that can take in page after page of words.
A lecturecast is a multimedia interactive lecture. It combines written content, short videos and animation. For all sections with audio, there's the option to download a transcript, so you can study even if you don't have your headphones.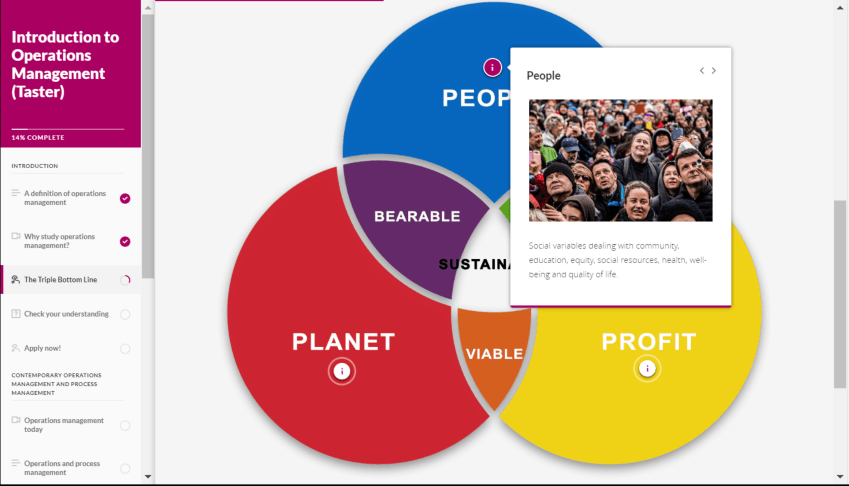 Throughout the lecturecast there are frequent opportunities to track your progress and test yourself on the information you've just learned. These mini-tests don't contribute at all to your final grade – they're purely included as a way for you to monitor how much you're absorbing.
You can go through the course at your own pace, pausing when you like, and skip back to sections you've already covered if you want to check something that you've learned. The learning environment is accessible from desktop, mobile or tablet, so if you want to study on your lunch break, your commute, or even standing in line at the grocery store, you can!
What else can I access with the course?
Studying with us isn't just about the lecturecast content. While this is the main way you'll receive course-related knowledge, your studying is supplemented by a range of other activities.
One key element is our discussion forums. Hosted on the same learning platform as the lecturecasts, you have the opportunity to chat about your course content with fellow students. As well as helping you connect with new contacts around the world, this is part of how we assess you – your contributions to discussions are monitored, and your tutors will regularly give you feedback on how you demonstrate your understanding of the content.
You're also assessed through written assignments and reflective journal entries, which you can upload directly to the learning platform. You'll receive all your grades and feedback through the platform as well.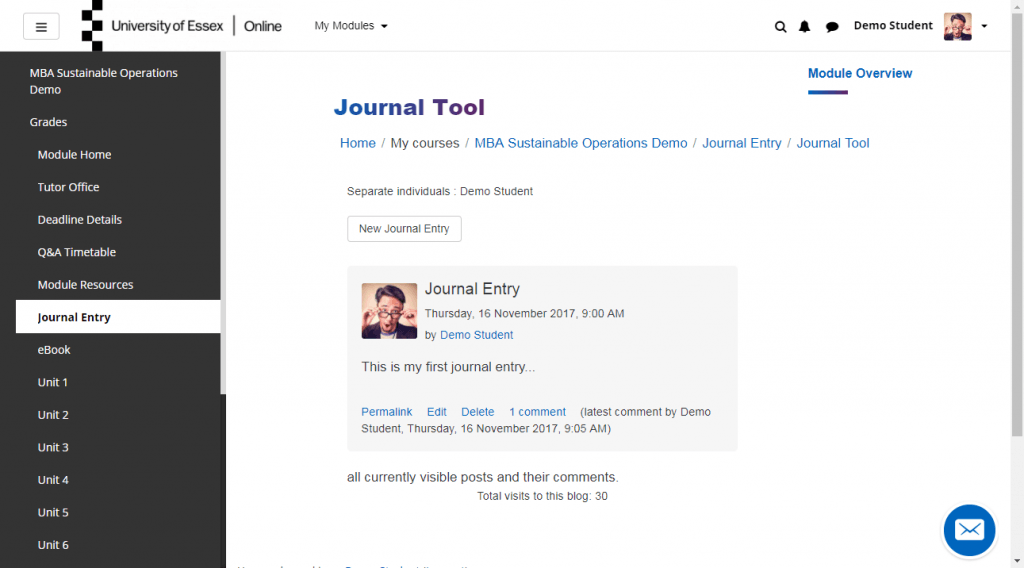 And that's not all. Your tutor will host live Q&A sessions weekly during your module, and they also have set office hours for the duration of your module, so you will have plenty of opportunity to ask questions and get advice.
And as a student you get access to a host of online resources, including a virtual library of textbooks and academic journals. It really is a one-stop-shop for all your education needs.
So what are you waiting for?
It's short, it's free and it's easy. If you're wondering whether we're the right place for you to study business at a postgraduate level, in just a few clicks you could be much closer to knowing.
Click here to sign up for our taster course in "Introduction to Operations Management" or any of our other subjects.