A law degree opens up doors for diverse career paths – including practicing law professionally. But the paths into legal practice can be confusing.
As you may already know, the routes to qualifying as a barrister or a solicitor are changing in England and Wales. This blog aims to provide information about current and changing routes to qualify as a solicitor or barrister.
The current route to becoming a solicitor
The current academic route consists of three stages.
Stage 1: A QLD or a GDL
The first step to becoming a solicitor is to successfully complete a law degree which is accredited by the Solicitors Regulation Authority (SRA) – a Qualifying Law Degree (QLD) or a Graduate Diploma in Law (GDL). All of our undergraduate LLB (Hons) courses (including joint law courses with business, criminology and psychology) are Qualifying Law Degrees.
In order to obtain a QLD, you must complete your law course in no more than six years from start to finish, along with other requirements which you can find in the Solicitors Regulation Authority's (SRA) Academic Stage Handbook. If you are applying for Accreditation of Prior Learning, you will need to check with the SRA or the Bar Standards Board (BSB) to find out how this affects the QLD status of your course.
Stage 2: Legal Practice Course (LPC)
After completing a GDL or QLD, you need to take up the LPC. This practical course covers topics such as professional conduct, taxation, writing and drafting – acting as a bridge between the initial academic stage and training with a firm of solicitors.  It takes one year (full-time) or two years (part-time).
Stage 3: Training Contract
The final stage of the qualifying process for solicitors is the professional training that takes place at a firm of solicitors (or similarly qualified organisation). This is sometimes done in conjunction with the LPC. You will need to gain experience in at least three different areas of law and practice. This can be done alongside the LPC, and usually takes two years.
Following completion, you can apply to the SRA for admission to the roll of solicitors.
The new routes to becoming a solicitor
The process for becoming a practicing lawyer is changing, and soon it will no longer be essential for you to have a QLD or GDL to practice law in England and Wales.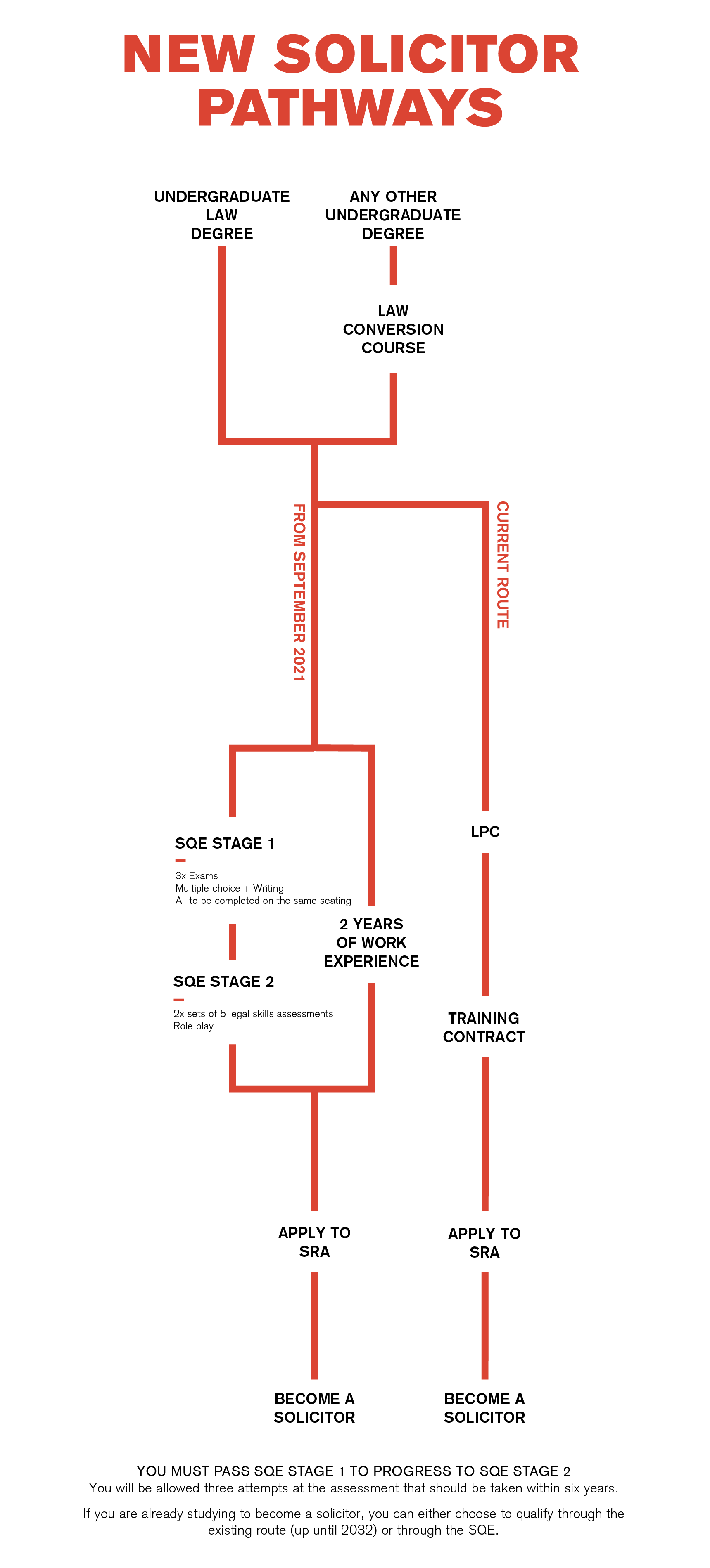 What if I'm currently studying a law degree and hope to become a solicitor?
If you are currently studying one of our LLB (Hons) Law or LLB (Hons) joint courses you will have the option to either qualify as a solicitor following the current route or through the new SQE route.
Want more information about the changes to the routes to becoming a solicitor? Stay up-to-date by checking the SRA website.
The current and new routes to becoming a barrister
From September 2019, the options available to budding barristers are broadening. The fundamentals aren't changing – you will need to undertake three different types of training (as required in the current route):
Academic learning (such as an LLB Law degree)
Vocational learning (such as the Bar Professional Training Course)
Work-based learning (such as a pupillage)
What is changing is the way you can complete each type of training. These routes can be undertaken in a range of different ways, such as the current three-step pathway comprising each type of training in sequence, a four-step pathway where the vocational component is split into two parts, an integrated academic and vocational pathway followed by work-based learning, or an apprenticeship pathway where all three elements are combined.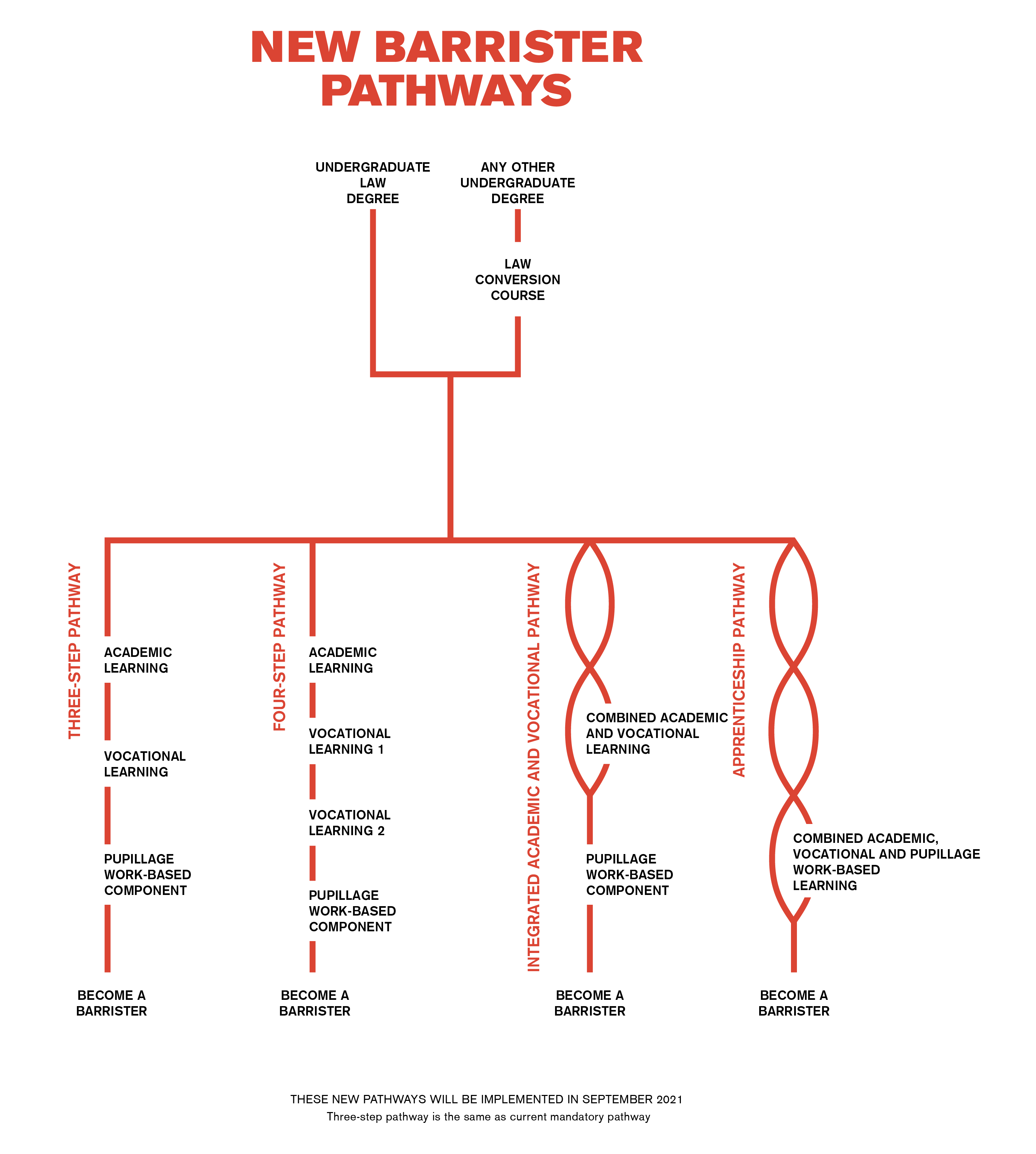 What if I'm on the current route to becoming a barrister?
As mentioned, the current three-step pathway will continue to be an option going forward, though there will be changes to the specifics of what is required.
Currently, the route consists of an academic component (such as one of our law degrees) culminating in the Bar Course Aptitude Test (BCAT), followed by the Bar Professional Training Course (BPTC), followed by two six-month pupillages.
Those currently enrolled on a BPTC or who will be enrolled by September 2019 should be able to complete the course before the phased changes are introduced, but if you are still undertaking the course by Spring 2021, you might be affected by the transitional arrangements.
Want more information about the changes to the routes to becoming a barrister? Stay up-to-date by checking the BSB website.
Our LLB (Hons) is changing too
We have redesigned our LLB (Hons) Law course to be SQE-focused – balancing both legal knowledge and skills requirements by the SRA. This new LLB (Hons) contains the seven foundations of legal knowledge that you will be assessed on during the SQE as well as a number of modules developing your practical legal skills, for example, drafting, interviewing, moot, advocacy, research among others.
Methods of assessment have also been adjusted, aiming to develop research and practical legal skills broadly reflecting the SRA's draft assessment specifications. One of the modules (optional) includes a multiple-choice question examination similar to the expected SQE Stage 1 examination methods. Multiple-choice questions are also used as formative assessments to test your knowledge throughout the programme.
How can I find out more?
Confused about what the changes mean for your future? No worries – we are here to help.
We have recorded a webinar that goes over what these changes mean for law students going forward. After a rundown of all the options available to you, our Head of Law, Dr Naila Anwar, answered various questions from prospective students.
We also recommend keeping up to date with the changes through the SRA and BSB websites, depending on which career you hope to go into.