A law degree opens doors for diverse career paths, including practising law professionally. But the paths into legal practice can be confusing, particularly since there have been several changes in recent years.
This blog explains the different routes to qualifying as a solicitor or barrister.
What are the routes to becoming a solicitor?
In England and Wales, the process for becoming a practising solicitor changed on 1 September 2021 with the introduction of the Solicitors Qualifying Examination (SQE).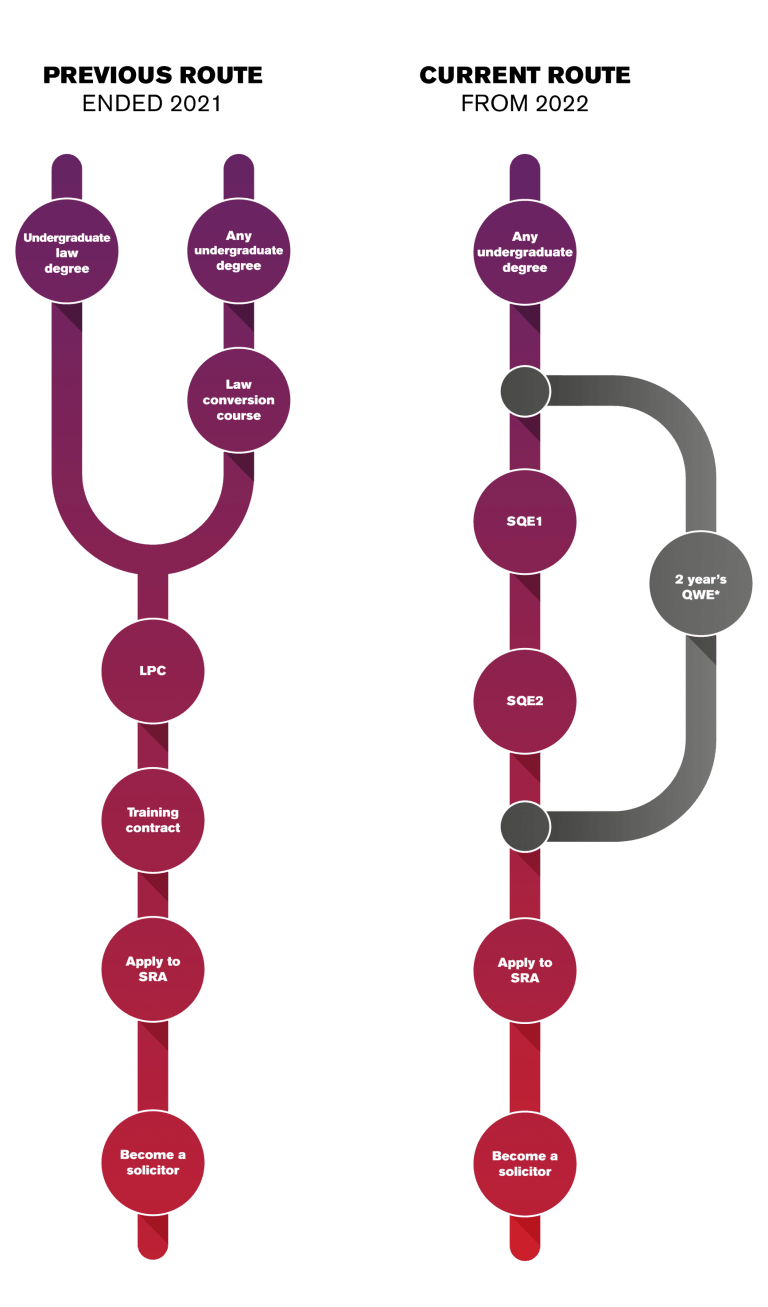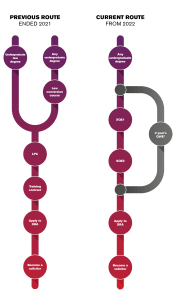 *SQE1 must be completed before SQE2, but QWE can be met before, alongside or after SQE1 and SQE2
Previous route
Previously, to become a solicitor, the first stage was to complete a Qualifying Law Degree (QLD) or a Graduate Diploma in Law (GDL).
The next stage was to undertake a Legal Practice Course (LPC). This practical course focused on topics such as professional conduct, taxation, writing and drafting. The LPC could be studied in one year full-time or two years part-time.
The final stage of the previous qualification process was to complete a two-year period of recognised training (often referred to as a training contract). This was sometimes done in conjunction with the LPC.
After completing these stages, you could apply to the Solicitor Regulation Authority (SRA) for admission to the roll of solicitors.
Current route
To qualify to become a solicitor through the SQE route, you need to:
Once you complete all these steps, you can apply to the SRA for admission to the roll of solicitors.
If you completed, started, accepted an offer, or paid a non-refundable deposit for a QLD or GDL before September 2021, you can choose to qualify through the LPC route or the SQE route; anyone who meets these criteria will have until 31 December 2032 to qualify as a solicitor under the LPC route, if courses remain available. If you do not meet these criteria you will need to qualify through SQE route.
How can an Essex Online Law degree help me become a solicitor?
Our LLB (Hons) Law has been designed to be SQE-focused. This programme syllabus contains the seven foundations of legal knowledge that you will be assessed on during the SQE and modules that develop your practical legal skills such as drafting, interviewing, moot, advocacy, and research, among others.
Additionally, our assessment methods develop your research and practical legal skills to reflect the SRA's draft assessment specifications. Also, one of the optional modules includes a multiple-choice practice section similar to the SQE Stage 1 examination methods.
Alternatively, we offer LLB (Hons) Law joint courses with other subjects: business, criminology, and psychology. These programmes enable you to combine your interest in a complementary field with your legal studies. As there is now no requirement to complete a specific degree to become a solicitor, you can study these programmes if you are planning on qualifying as a solicitor. However, you may need to take further training to prepare for the SQE itself.
What are the routes to becoming a barrister?
From September 2020, the options available to budding barristers to qualify broadened in England and Wales. Though the fundamentals didn't change – the Bar Standards Board requires you to undertake three training components (as was mandatory previously).
Academic component
To complete this component, you need either a law degree or Graduate Diploma in Law (GDL). In addition, your degree classification needs to be a minimum of a 2:2. During the academic component, you will need to study the seven foundations of legal knowledge, which all our law degrees cover.
Vocational component
This component prepares you for becoming a barrister by covering a range of subjects to ensure you acquire specialist skills. It is satisfied by undertaking a Bar training course, also known as the Bar Practice Course (BPC); this was previously known as the Bar Professional Training Course (BPTC).
To enrol on a Bar training course, you must be fluent in English, a member of one of the Inns of Court, and pass the Bar Course Aptitude Test.
You must also attend qualifying sessions with your Inn of Court during the vocational component. These are professional development events of an educational and collegiate nature.
If you complete this training component, you are 'Called to the Bar' by your Inn.
Work-based component
To practise as a barrister, you must undergo a pupillage, which is a period of work-based, practical training under the supervision of an experienced barrister.
Pupillage is divided into a non-practising period and a practising period. The BSB stipulates that you must receive minimum compensation whilst you train during your pupillage, although some earn more than the minimum amount.
These three training components are covered through four qualification routes (as pictured).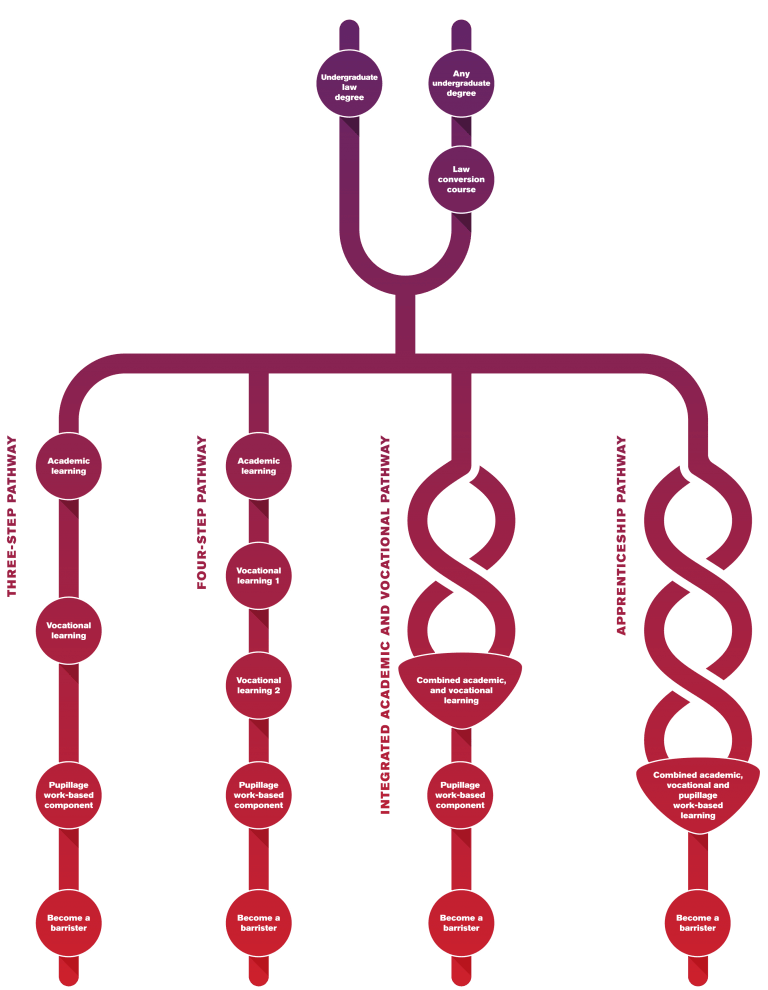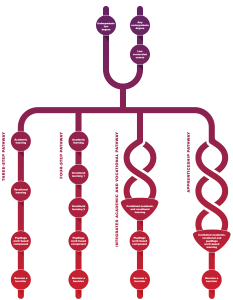 How can an Essex Online law degree help me become a barrister?
Becoming a barrister is highly competitive. There are many more people who want to become barristers than places available.
The syllabus of our law degrees covers the seven foundations of legal knowledge. You could then pursue either the three-step pathway or four-step pathways to qualify as a barrister.
For more information on the different Bar training components, visit the BSB's website.
How can I find out more about studying law with Essex Online?
Our dedicated Admissions advisers are available to answer your queries. You can contact them by calling +44 (0) 1206 489 358 or emailing enquiries@online.essex.ac.uk.
We also recommend keeping up to date with the changes through the SRA and BSB websites, depending on which career you hope to pursue.