A psychology degree is a hugely versatile qualification that will prepare you for a wide range of careers.
The modules on our recently-launched undergraduate course cover a broad range of subject-specific topics, giving you the perfect foundation for many psychology-focused professions. They also help you to build on more generic, career-focused, transferable skills.
Careers related to psychology are extremely wide-ranging; graduates may wish to work in a number of areas including counselling, the civil service, marketing, research, healthcare, education and business.
Other popular job roles and areas include: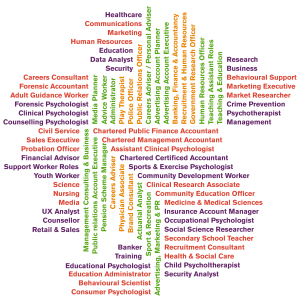 Our BSc Psychology course will provide students with a fascinating insight into why we behave the way we do, how we interact with others, and how psychologists use empirical study to explore and debate issues such as mental health, educational and child development, leadership and performance at work, and offending behaviour.
Students will acquire a wide range of subject-specific skills as they study areas including advanced cognitive psychology, biological psychology, critical social psychology, qualitative research methods and many more. Those hoping to use this qualification to develop their career will also develop a number of transferable skills including communication, IT skills, numeracy and problem-solving skills, planning and more.
So in summary, earning a degree in psychology can open the door to a host of fascinating careers, many of which provide a unique opportunity to make a positive impact and help improve communities and society.
Want to boost your career with a qualification in psychology? Download our prospectus today.