It's not just a career as a solicitor or barrister that opens up for you as a law graduate – the range of employment options for those with a law degree is broad.
According to the statistics from the ONS (2017), there is an 87% employment rate for law students following graduation. Students go into a wide variety of careers and further studies following a law degree.
Law graduates are highly valued in the employment sector for their skillset, which includes critical analysis, research, writing skills and negotiation. One of the competencies employers look for in the current job market is adaptability, so being able to move across sectors and transferring your skills into related roles can be key to finding the best opportunities.
Legal practice
Many students follow up their LLB with further study towards legal professions – the Legal Practice Course (solicitor route), Bar Professional Training Course (barrister route) or the new routes to qualification, such as the Solicitor's Qualifying Exam.
We have an entire blog dedicated to the paths into legal practice and how it is currently undergoing major changes. You can read it here.
However, this is far from the only option! Many students also opt to go into legal related fields or further academic study.
Alternative law careers
There are many alternative but related careers which demand the skills and knowledge developed during the study of a law degree. These alternative law careers include: paralegal, conveyancer, company secretary, legal executive or within the police force.
Careers in related sectors
Employers in related sectors are looking for the skills that you can gain from a law degree. Such opportunities can be found in the public, private and Charity/NGO sectors, including: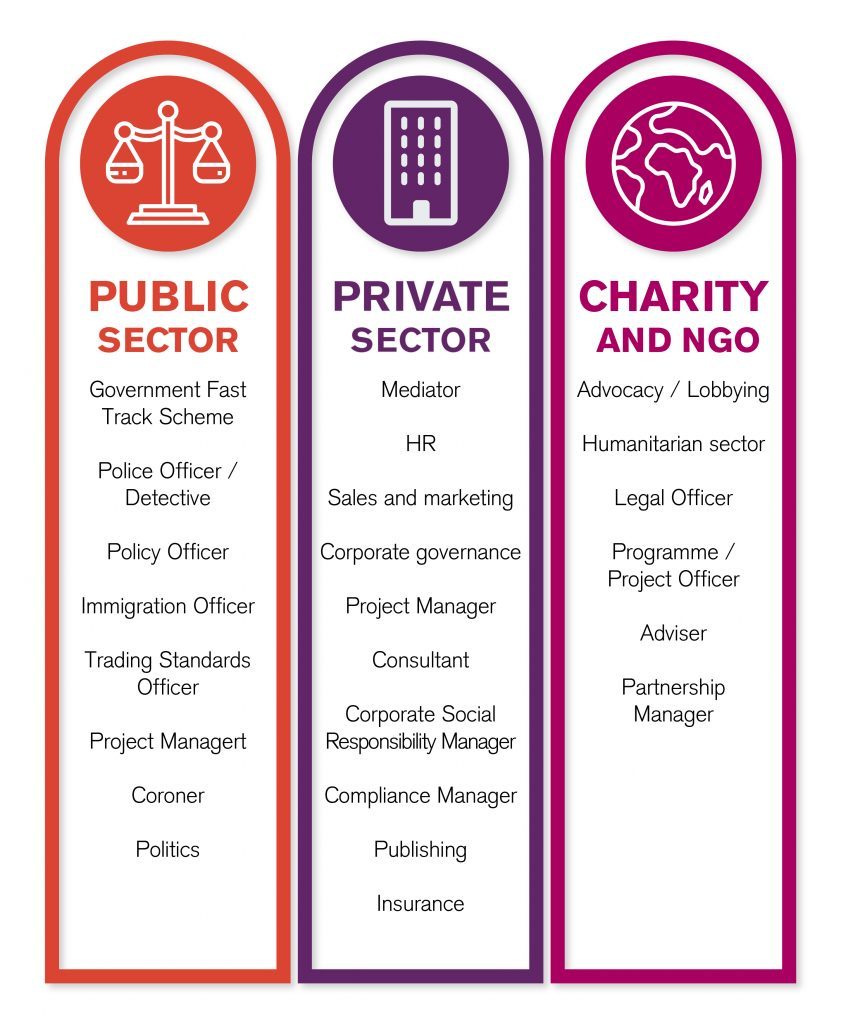 You can also look at roles within education… but it doesn't stop there. There are countless other options available, and many roles in all industries can benefit from the rigor and dedication required to achieve a law degree.
Further study
Another option is to pursue further study at Masters level, or even beyond to a PHD.
At University of Essex Online we offer an LLM International Business Law, and there are lots of other LLMs with different specialisations available at other institutions.
You may also want to study a non-law Masters degree in the field you hope to use your law knowledge within, such as:
MBA or MSc Business – business
CIPD – HR
ACCA and CIMA – accountancy
Royal Town Planning Institute – town planning
CIOT – Chartered Tax Advisor (CTA)
ICSA – Chartered Secretary
The skills developed during your first degree will continue to be enhanced during your further study.
Other useful websites
There are tons of useful resources out there for prospective and current law students. Here are a few of our favourites:
Want to get started in one of these careers? You can find out more about our law courses by downloading a prospectus.