What are the career options with a Master of Public Health?
A Master of Public Health (MPH) is an incredibly versatile qualification, with graduates able to demonstrate their suitability to enter a wide range of public health roles.
Most students have previous experience working in a health profession or have gained an undergraduate degree in a health-related field. But although students may have similar career backgrounds, their future plans usually cannot be more different; some students want to work in and improve their local community while others are determined to make an impact on a global scale. A diverse student population sharing experience and insights from a variety of health systems is a valuable part of completing an MPH with University of Essex Online.
If you're thinking of starting to study an MPH, some possible career destinations are:*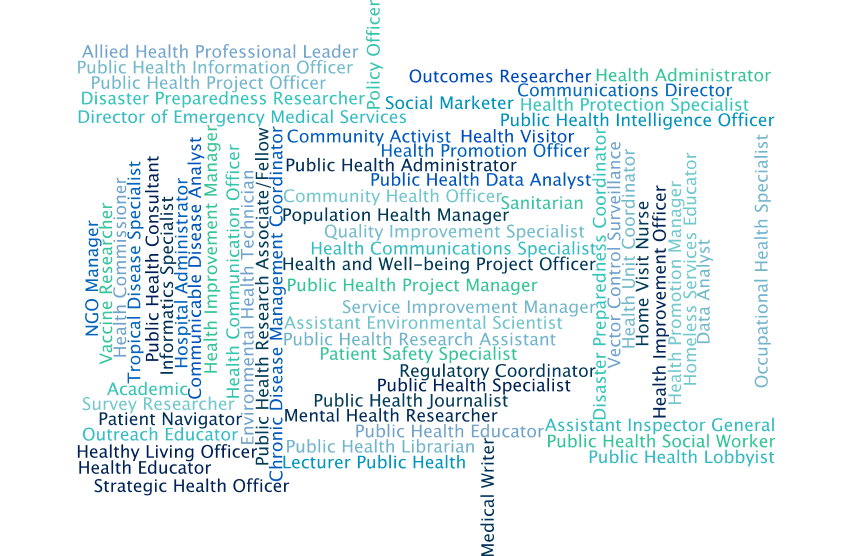 An MPH supports students to enter the public health workforce in a wide range of roles by helping them to develop a systematic and critical understanding of the key concepts and theories that inform public health practice.
The MPH allows students to study areas such as Epidemiology, Health Promotion and Communicable Disease Control in addition to completing a dissertation research project. Graduates will be well placed to enter the public health workforce within a variety of settings. For those in the UK, the course enables students to demonstrate their competencies in alignment with the Public Health Skills and Knowledge Framework, which is used to map competencies to key public health roles.
Because so many MPH students already work in the health profession, it's perfectly understandable that they don't want to put their career on hold to study. This is why our course is designed as a 100% online and part-time course, so busy health professionals looking to gain a recognised qualification from a top UK university can continue to work.
Unlike a traditional university environment, our students use a Virtual Learning Environment to track and manage their learning process in real-time and receive immediate 24-hour access to their learning materials and eBooks.
Students and tutors take part in real-time conversations and can listen to, and view, live lectures and seminars over the internet. Finally, students are supported throughout the MPH programme by a dedicated Student Adviser and have the opportunity to regularly interact with fellow students and their tutor.
Inspired to start studying for an MPH? Download our prospectus.
* Entry requirements for roles vary and may require additional qualifications/demonstrable experience.