I have always wanted to study Law since I was in Italy.
My family encouraged me as they thought I'd make a good lawyer. Through my career I naturally fell into handling all compliance-related matters and engaging with all external legal counsel and I liked it.
I applied for the course because I thought that the time had come to complete a formal education in law: it would have been good for me to understand the nuances of the legal advice I was to receive and being able to formulate better questions and analyse problems from a more competent point of view.
In my career, I have tended to accrue practical experience and then pursue qualifications: addiction psychology, business, marketing, law. The addition of this degree allows me to pursue a career in a relevant role at a later date, if I wish to do so. It also enables me to provide more qualified pieces of work if I chose to become a consultant.
Tell us a bit about your background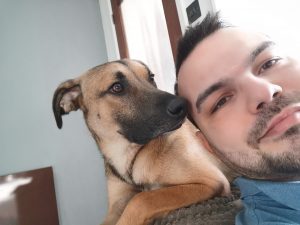 I was born in Italy and moved to London three days after completing my first Bachelors in Psychology to look for professional opportunities as well as postgraduate courses. I found a job as a customer service adviser and started a Masters in Addiction Psychology.
I got promoted and changed jobs where I got to run an operations department at a larger business and started a business degree with the Open University; by then I realised I preferred to study distance learning programmes as it gave me the ability to complete work when most convenient to me. Towards the end of that Bachelors the opportunity presented itself to start a business with a very good friend who was exiting her job.
I completed two further courses with the Chartered Institute of Marketing and then applied for an LLB with University of Essex Online. I am the Managing Director of a group of companies that employs staff across three continents and am also responsible for legal matters, regulatory compliance, operations, marketing, human resources and technology.
Why did you choose to study online?
This is going to sound rude or pretentious, but I do not enjoy the classroom environment. I don't feel that spending several hours in a room with other people is the best way for me to learn. Studying online allows me to exert better control over my own progress, without having to slow down for or lag behind other students. I can decide how many modules to take at any one time and which ones to invest more or less time.
In addition, as my job is incredibly busy and I often have to travel at very short notice, being able to study wherever I am and whenever I am able to allows me to dedicate my full attention on the subject and focus my effort at times when I can be more productive.
I started the course because I wanted a degree in law, and I wanted a first class Bachelors and I wanted to achieve it in 3 years, and no campus-based course would have allowed me to work at my own pace to achieve just that.
How did you find studying 100% online?
I tend to not spend much time socialising with other students; therefore, the online environment gave me a way to control my interactions better without seeming rude for not wanting to spend time with people.
The virtual learning platform was very user-friendly, and I found it easy to access all the resources I needed. The reading lists were very clear and useful, the grading and feedback was well laid out and intelligible, and the library is well stocked.
The staff were incredible! Amy, one of the Student Advisers, made herself available every time I had a question or needed help with challenging situations. She promised to call me as soon as the degree mark became available and she did, which genuinely contributed to my happiness in finding out I got a First. I loved the personal touch of receiving a phone call to let me know. The library staff were really helpful too.
Have you applied your learning to your current job?
Yes, I have been able to apply several concepts learnt in contracts, trusts, equity, commercial and company law to a couple of new ventures my company is starting. Also my studies helped my charity work, as I had to draft adoption contracts and other legal paperwork.
Can you share your favourite online experience?
This has to be my time spent working on my research project with my supervisor. I was particularly happy with my idea and my supervisor was incredibly helpful with providing advice on my style, the scope and how to keep the dissertation focused on the main question.
I have completed dissertations before, so was confident with the process of formulating a hypothesis, researching literature, and coming to conclusions, but having not done a law one before I was in need of someone to give me honest and actionable feedback. My supervisor did just that and spent each supervisory meeting listening to my concerns, observations and questions and helping me with those.
I tend to be very protective of my work when it seems to me people are criticising it simply because they can, rather than being constructive but, working with my supervisor, all those barriers came down as all of his observations were clearly aimed at improving my work and my confidence with it.
What advice would you give someone considering online study?
It's hard so you need to be very determined. You need to be disciplined and put in the effort: no one chases you or rushes you to do your assignments or take part, you have to do that yourself.
You need to make sure you can dedicate the time and focus to the course and the subject. Regardless of whether the degree is taught online or on-campus there will be modules that may not be as interesting or exciting to yourself, but they have to be done. So, motivation is key and being able to find the right time to do the work is fundamental to success.
There are plenty of resources available on general study skills, legal research, materials and access to University staff, so you are not left alone having to figure it all out. Use those resources when needed.
If you want to find out more about Mauro's charities, visit the websites Stray2Me Rescue and Romanian Rescue Appeal.
Want to pursue learning online like Mauro? You can view our prospectus here.