Interview with Criminology student and Special Constable, Jamie Heslop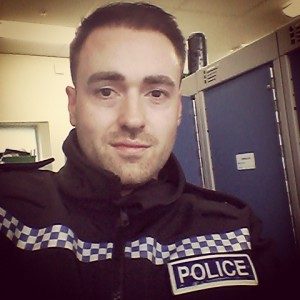 Overcoming everyday obstacles like family and work obligations to commit to online study isn't easy, and it only gets harder when you work in a physically and mentally demanding job like the police force. So how do our students do it?
We caught up with one of our Criminology and Criminal Justice students, Jamie Heslop, a Special Constable, to ask how he manages his time between study and work.
Please tell us about your education background
I obtained 11 GCSEs in a range of subjects at secondary school, then studied for my A-levels in Health & Social Care at my local sixth form college.
My goal was always to work in the Police or Probation Service, so I carried out my Certificate of Higher Education in Crime & Criminology at the University of Portsmouth before moving on to the University of Essex Online where I am now studying for my BA (Hons) Criminology & Criminal Justice.
What is your job title? And what do you do on a day-to-day basis?
For the past three years I have worked part-time as Special Constable within Northumbria Police, and I am about to start a volunteer role in the Probation Service. The role of Special Constable is a demanding and exciting role which has provided me with a range of skills in law enforcement and crime prevention. As a Special, it was my job to commit at least 16 hours a month. Special Constables possess the same powers and carry out the same duties as regular officers, which means that the job can be demanding at times.
On a day-to-day basis it was my duty to carry out routine patrols on foot and in a vehicle, providing a presence within the local community to deter criminal activity. Within my role I conducted a range of duties such as interviewing suspects and victims, making arrests, carrying out stop and searches, policing public events and protests and engaging with the community.
Why did you decide to start studying?
It was only in the past three years that I started to express my interest in studying further, as I needed a degree within the field if I wanted to progress (especially if I wanted to climb the career ladder within the police service or enter as a trainee probation officer).
Why did you choose online study specifically, rather than just studying on a campus?
Online study was the only option for me as I work full time in a hospital; going to university full time was never an option due to the financial constraints it would have placed on me. Also, I feel I would learn better studying in my own time and in my own home.
How do you feel about the fees?
The fees are expensive compared to what they were before the government tripled tuition fees; however, student finance have provided me with tuition fee loans which I will not start paying back until I complete my degree.
Why did you choose the University of Essex Online?
I chose the University of Essex Online because of its reputation for providing well-structured and detailed degrees in subjects that I am interested in. I also chose this university because it pushes students to excel in their career.
Why did you choose your course?
This course was the only online criminology degree that interested me as it provides a range of in-depth modules that relate to my chosen career, e.g. Probation & Community Justice, and Youth Crime & Justice. Studying these modules will aid my understanding of a career within the police accelerated promotion or probation service.
What do you enjoy about the course?
I enjoy many aspects of the course, especially how interactive it is; I really like engaging with other students in discussions about criminological issues. I also enjoy the fact that although it is distance learning, my tutor is always on hand to help out by phone or email and point me in the right direction if I have any problems.
What don't you enjoy about the course?
The only negative aspect of the course is that I have to complete journal entries every two weeks plus a final journal report at the end of the module. I feel that this time could be spent conducting more research and improving my marks within my main assignments. However the weekly journals do show how well I am progressing within my studies.
Tell us about the student support at University of Essex Online
The student support team have been extremely impressive; they have helped me with any queries I had about the course, modules, student finance, research materials and how to reference correctly. I find myself more at ease knowing that the student support team are always there to help me when I need information.
How do you manage your time?
My timetable is quite restricted at home due to working full time and studying, plus volunteering. However I am quite good with balancing my workload without becoming stressed; I do this by drawing up a timetable deciding which part of my research I have time to conduct each night, and how much time I can allocate within my week.
Have you been able to apply any workplace-specific skills to your online studying?
Yes! My communication and advanced writing skills, gained from my role as a Special Constable in the Police Service, have helped me in my studies. As a Special Constable it was my job to communicate effectively and write statements and pocket notebook entries; possessing these writing skills has helped me to write my academic reports.
Has the content you have learnt within the course been useful within your career? And if so, could you give an example of how/where you used the knowledge learnt?
The course modules have had a very positive effect on my career; modules such as Criminological theories have helped me to understand that certain individuals commit criminal activity due to their environment, genetics or psychological issues. Obtaining knowledge like this allows me to address offenders in a different way, helping me to empathise more. Understanding these factors will also allow me to play a better role in the offender's future rehabilitation.
Have you considered continuing your studies further?
Once I have completed my BA degree, I would like to progress further and complete a Master's degree.
If someone else was in the police force and considering online study, what advice would you give them?
Anyone working within the police force who wishes to study online should definitely do it as it will be a very rewarding experience. It will allow them to learn new skills and understand crime studies, which will enhance their role in the police service. Online learning may seem daunting at first, especially when you're working full time; however, once you get the hang of it and learn academic skills you will be well on your way to improving your future career prospects.
Inspired to start studying online? Download a prospectus today.